Lori's Story Time
Here is a story that Lori told me while walking back from lunch the other day.
An old man is sitting outside the city gates and along comes a young traveler. The young man tells the old man that he is looking for a new place to live and asks about the people in the city. "What are they like?"
"Well I will tell you, but I am not certain how to respond to a question like that. First, can you tell me how are the people in the place you are leaving?"
The young man then goes on at some length about how awful they are. He enumerates several of their faults like meanness, back stabbing and cranky nature. Then goes on to say that he wants to live in a city where people aren't really like that. The old man leans over "You will find the same sort of people here. This town is full of that type. Good luck with your search."

A little later a young woman approaches the man. She inquires about the city inside explaining that she is shopping for a new place to live. Much like before, the old man asks about how her last city was. She explained that she really loved all the people in her former city and although she needs to move on she will really miss everyone. The old man leans over and says, "You will find the same sort of people here. This town is full of wonderful people. Check it out"
We then had a discussion about expectations and results related to the work environment. I left my last job horribly unhappy. I was treated unfairly; I had done my best work for the most ungrateful boys club known to me in my career. Then I came here and it felt like Oz. Still, I find some of the same patterns following me. For example the best work I do here goes largely unnoticed, but I am thanked profusely for doing something like plugging the sound cord into an iPod before a presentation. One time I was even given a gorgeous bouquet of flowers for changing the slide order of a power point presentation for a visiting artist for another department. It took me longer to walk across campus to help them than to actually fix what was puzzling them. However, if I find some ingenious way to fix a coding problem that I am really proud I get at best a more subdued response. If I am doing cartwheels in the hall because of something lovely, and tell my coworkers about it, I get a puzzled look and an sincere but unknowing good for you. Ah well, my work is not a techy place, I don't expect them to get my uber geeky triumphs. When I worked for five weeks without a day off to manage the data migration for a big software cut over people knew I was working hard but they couldn't fathom the what for. They couldn't offer real appreciation and instead would tell me to slow up and give myself a break.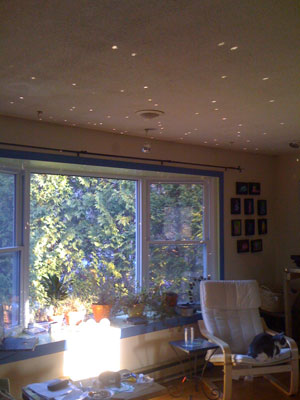 The funny thing about this is that although the same dynamic seems to have followed me from place to place I am still feeling like for the most part this is Oz minus a little glitz. Maybe I am getting closer to the be like the woman in the story. My wish is to also be like the old man.
I had a friend here who was from Minnesota. He would constantly complain about the cold mean style of New Englanders, for which I would take great offense and tell him to just go back to Minnesota. I love the people here: love that I can easily tell where people are at, love their aloof bright smiles, love the familiar challenge of connecting. When I lived in California for a while it took me a full 18 months to learn how to discern the friendly chatter from a real desire for a larger conversation. When I arrived back in New England it was like coming back into the familiar signals. Nice. I would try to give him pointers as to how to read people here that he might not see as a foreigner. He would then tell me horrific stories of how strangers driving, to display some sort of spite toward him, threw a whole coffee at his pretty white Jetta. Grumbling, he then had to wash the car. He would list off instances of people being intentionally cruel to him, clerks ignoring him, sighing at the gall of his presence, rejecting him. Shocking. More so because this just wasn't my experience with people here or anywhere. Since then he has moved back to Minneapolis and is happy there. He seems happy there and has not since mentioned people being nasty to him. It makes me wonder about people place fit or if it is all just attitude.
I have adorned this post with an image of what my living room has been looking like at 7am. For the past week since I can not sleep I have been getting up early and doing yoga. The past couple of days have been to the sun shining dots all over the room from the mini disco balls on my window sill. This I call "disco ball time" and I thought it only happened in the afternoon, and once, magically in the moonlight. Enjoy!