Public Sleeping Day
Don't forget that today is public sleeping day. So take a nap where people can see you and how cute you look dozing. Don't be shy about mouth agape, snoring or that drool spot on your sleeve. it is really what this day is all about. You will look so peaceful and then have those tell tale sweater indents on your cheek. Go ahead indulge the day.
I have been reminded that public sleeping is commonplace. True but today is the day to celebrate it nonetheless. In the same conversation I was told that sleeping in front of someone is the ultimate sign of trust, because you can do anything while they are asleep. Thinking about that is hypnotic. Maybe it is making me very very sleepy… Time to nap in front of my student staff. Sorry, no can do. I am listening to a Pandora station, which I know should be Cake Radio, but all my stations have been transposed to backwards. Apparently, I left myself logged in yesterday. The theme of the year is don't leave yourself logged in – or suffer the pranks. So now it is oidaR ekaC, but still too zippy to sleep to.
Next year for this day I will have to try to stay up late the night before in prep.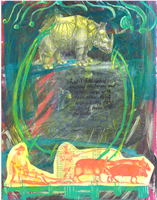 Onto a non holiday note. Robin from Alchemy Studios had the brilliant idea last summer to call for artists to create handmade books, doll up a few pages and mail them to the next artist in the circle. She books were all to have a nature theme and be about the same size, other than that it was artist's choice. Although pathetically late, I finished my last pages on Tuesday morning. Just in time to hand them off to the Hampden Gallery director for a show that opens Sunday. It is interesting how the sub themes developed – not by book which is what I would have thought but by artist. Mine took a turn into questioning who held the dominion over nature, nature or man. Even my last piece had a rhino and a plow ox questioning the wild vs the tame. Scott seemed to contemplate the duality of nature with its light and shadows. I am curious if the other artists felt there themes continuing on together or they were more drawn to where the book took them.
There will be an opening reception Sunday from 3-5 and because there is another exhibition there for George Wardlaw who is a well established artist and there was tv and valley advocate press coverage it should be well attended. How lucky for us to showcase next to that!
here is the event info or if you can't make it you can see all the books here