Friday, May 30th, 2008
This past weekend I signed up to Iron Dance. I wasn't going to actually sign up just do the five contra dances required but Jan signed me up last Sunday and made me official. She actually didn't sign me up so much as change me from "Jan's Friend" to my name. What is this Iron Dancing? Is it like and Iron Man Competition? Is it like Iron Chef with folk music? Or is it like Ironing your hair while twirling?
Iron Dancing is to do five nights of contra dancing which include the Dawn Dance in Brattleboro VT. Jan and I decided to car pool for the lot of this. First up is Heathen Creek in the Scout House Concord, MA. The music was out of this world lovely. As full as I have seen this place with four lines. I start the dance with my neighbor Adam who decides he loves the floor, adores the band and celebrates by spinning me into the stone age, or maybe the Iron Age is more appropriate here. Friday was delicious. The band was Les Z Boys and had a flirtatious fiddler and a piano man with a howl that can make you just pop out of your skin with glee. That night I was popping out of my skin with a different cause, couldn't possibly dance like that and left after break. Saturday was a two band loveliness that started you off with a pick up band and then finished you off panting and happy with Crowfoot. I danced and danced. Sunday morning was yoga and then an intention to bake treats for the night which turned into speed planting the tomatoes and going to pick up Jan two hours late. We drive up to Vermont, take a walk in AgentY's forbidden mushroom patch, have dinner at the Brattleboro Coop and are ready to Dawn Dance.
Well sort of
Frankly I wasn't much in the mood for dancing, my back is feeling cranky. One more too tall man yanking me around and I will be laying on the floor moaning, and not in a good way. But then it starts and the band is wonderful, the sound is good (it is a difficult space) the floor isn't as sticky as I remember and it isn't crowded (yet.) I try to dance three and sit out one. I try to stay hydrated. It seems like almost everyone I have ever enjoyed dancing with is here and smiling. I start sitting out more happy to be lounging on the stairs eating brownies (thanks Will) listening to the music and watching people interact. As the night gets late the band changes to a mini version of Big Bandemonium I am reinvigorated with the brass section, dance for an hour. I sit on the stairs watching people interact. Two people are talking with each other she is leaning and looking toward him, he is looking straight ahead and is noticeably upright. I analyze the body language until something else distracts me. As it is getting later the crowd is getting younger, the dancing sloppy and distracted. There is a people puddle of cuddling by the elevator, I hear there is amazing singing downstairs, everywhere you turn there are people bathed in the beauty of the music and the combined energy of the place; that energy is dwindling and hanging on into the early morning hours. I last until four and as I leave I see the first bit of morning twilight, thinking of the crepuscular creatures awakening for a romp.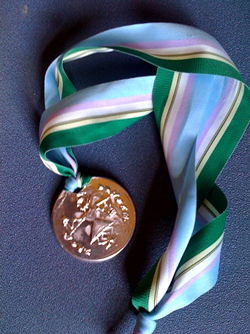 Monday is sleep, wake, deal with Jan's annoying sick dog nap, cuddle, try to find a swimming hole, listen to beautiful singing, drive to Nelson, car picnic, and then dance some more
There are 21 Iron Dancers at Nelson and we all get a medal and certificate listing the five places we danced. Concord, Greenfield, Greenfield, Brattleboro, Nelson. There is chorus jig, Jan is playing and I want to be in line with the playful girls who were behind me last time. The La la la's down the inside are loud and everyone is jubilant. We drive to Vermont and then back down to Greenfield and I am so tired I can not possibly make it back to Wendell. I sleep on Jan's couch and think something I haven't in the 15 months since I started dancing. I'm tired, I think I am done for a few days.
However Big Bandemonium with their full brass section will be at the grange Saturday and I will probably be too.
Geesh